Release date: April 8, 2022 (USA) 
Movie Cast: Ben Schwartz, Jim Carrey, Colleen O'Shaughnessy, Idris Elba, James Marsden, Tika Sumpter, Natasha Rothwell, Shemar Moore, Adam Pally, Lee Maj Doub.
Movie Soundtrack: Tom Holkenborg.
Starring by: Ben Schwartz as Sonic
Jim Carrey as Doctor Robotnik
Colleen O'Shaughnessey as Tails
Idris Elba as Knuckles
James Marsden as Tom Wachowski
Tika Sumpter as Maddie Wachowski
Natasha Rothwell as Rachel
Shemar Moore as Randall
Adam Pally as Wade Whipple
Lee Majdoub as Agent Stone.
Genres:  Animation.
Country of origin: United States & Japan.
Languages: English.
Directed by: Jeff Fowler. 
Produced by: Neal h. Mortiz, Toby Ascher, Toru Nakahara, Hotoshi Okuno. 
Story by: Pat Casey, Josh Miller.
Distributed by: Paramount Pictures.
Production companies: Sega Sammy Group. Original film. Marza animation planet. Blur studio.
Runtime: 122 minutes.
Plot of the movie "Sonic the hedgehog 2":
Eight months after beating Doctor Robotnik and becoming Tom and Maddie Wachowski's son, Sonic 2 the Hedgehog struggles in his efforts to protect the populace as a vigilante. Before Sonic and Maddie leave for Maddie's sister Rachel's wedding in Hawaii, Tom urges Sonic to be patient for the day his abilities would be required.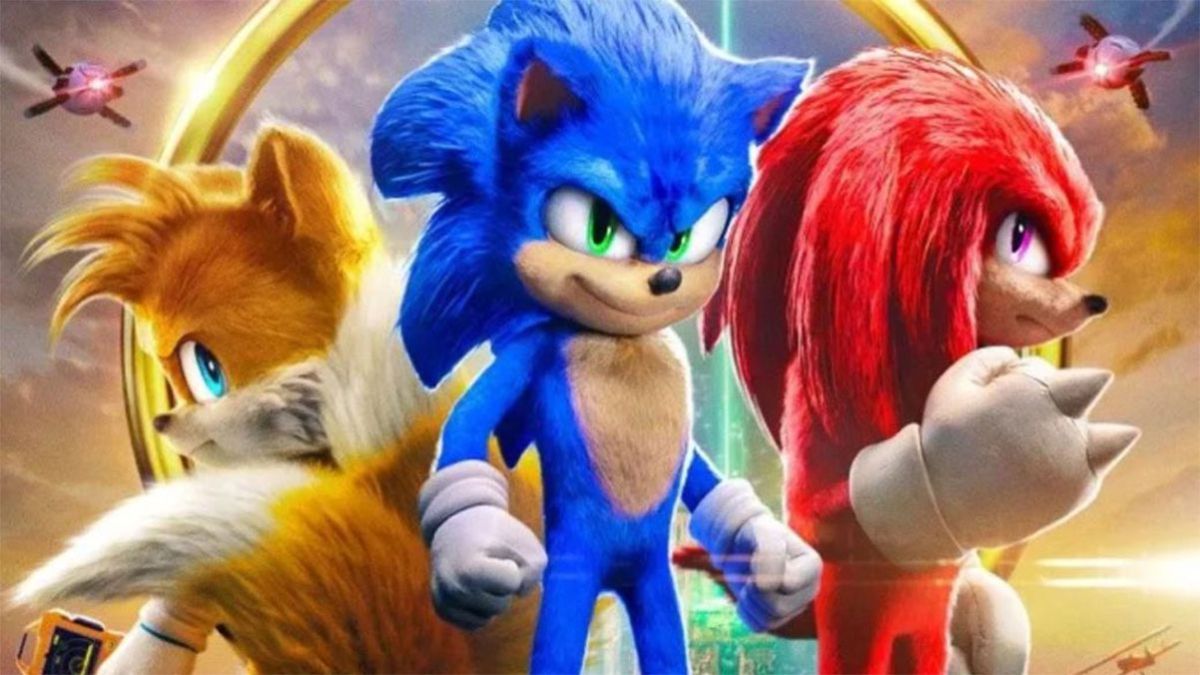 Sonic intends to enjoy his time at home alone, but Robotnik, who has returned with Knuckles the Echidna's assistance, attacks him. In order to preserve the memory of his vanished tribe, Knuckles is seeking the whereabouts of the fabled Master Emerald, a priceless artIfact whose owner has the power to control reality.
Mile's "Tails" Prower, a two-tailed fox who idolizes Sonic and arrives to warn him about Knuckles, saves him. While Robotnik and Stone reconnect and plot to steal the master emerald, Robotnik persuades Tails to help him discover it. Robotnik also offers to aid Knuckles. Sonic and Tails travel to Siberia using hints on a map left by Sonic's deceased guardian Longclaw, where they discover a compass within a crumbling temple.
Sonic and Tails are being pursued by Robotnik and Knuckles as they descend a mountain. Robotnik and Knuckles take the compass during an avalanche that follows. Tom teleports Sonic and Tails to the wedding in order to save them.
Sonic, Tails, and Tom are saved by Maddie and a spiteful Rachel when Rachel's fiancé Randall and his wedding guests identify themselves as undercover agents of the Guardian Units of Nations (G.U.N.). The Master Emerald is located in a huge aquatic temple that Robotnik and Knuckles discover.
Robotnik takes advantage of the diversion to capture the emerald, fuse himself with it, and explode, sinking the temple into the water. Sonic travels to the temple and battles Knuckles there. As Tails rescues them in a biplane, Sonic 2 and Knuckles make their way out and decide to cooperate.
Robotnik uses his new skills to build a massive robot that resembles himself in Green Hills. In an effort to retrieve the Master Emerald, Sonic, Tails, and Knuckles team together to battle the robot and its supporting drones. However, the Master Emerald breaks, severing into the seven Chaos Emeralds.
Sonic, who has transformed into Super Sonic with the Chaos Emeralds, is saved by Tom and Maddie. Before scattering the Emeralds and returning to normal, he smashes the robot. Knuckles agrees to guard the Master Emerald with Sonic and Tails after repairing it from the leftover fragments. The three carries on living happily ever after with the Wachowskis.
In the middle of the credits, Stone infiltrates G.U.N. as they start looking through the wreckage of the mech for Robotnik.
Official trailer:
Sonic the Hedgehog 2 (2022) – "Final Trailer" – Paramount Pictures